Rock Hard Porcelain: The hottest trend in flooring – Coming in 2016!
By soci inc
This coming year is going to be a year of changes, especially at Soci! Our most exciting change is the addition of an entirely new line of flooring options: porcelain! If you have been staying up to date with the newest building and design trends, you have probably seen this material used on your favorite HGTV shows and used on a variety of projects. Why, you may ask? There are so many reasons to use porcelain tile in your upcoming projects.
Porcelain allows you to take your flooring to the next level of design. Flooring is no longer just wood, or just natural stone. With the use of porcelain, you can turn for tile and your flooring into works of art. Check out this special order option of porcelain: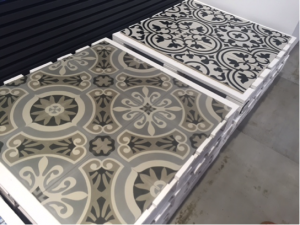 Still looking for that classic wood or natural stone look, but not so eager about the maintenance (or the cost)? Porcelain has such a wide range of looks, you can achieve the look of a natural product, with the use of this man made product. Take a look at these porcelain options:
So why use Soci's line of porcelain options? As you already know, Soci's current mosaic and tile options are all custom selected and designed, and our new porcelain line will be no exception. We have taken extra time and care to ensure that we are able to satisfy all budgets and looks. We will have a consistent stock of this product and a timely turn-around on special orders and large projects. We have gained exclusive access to a number of designer Spanish Wood Porcelain options, giving you the ability to create a look that is as one of a kind as you!
For more information on our porcelain, or to order any of our current products, please contact us at sales@sociinc.com